نمایندگی انحصاری شرکت VMC ایتالیا ,تولید کننده انواع واحدهای هواساز (Air End ), انواع (Unloader), شیرهای (Minimum Pressure Valve), (Thermostatic Valve)و کیت های تعمیراتی (SPARE PART KIT)
Pack Smart V130
Pack Smart V110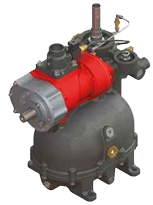 Pack Smart V90
ROTOR PROFILE: r profile in order to reach maximum performance even in the most extreme conditions and guarantee efficiency and duration. This means higher air-flow rate for less energy consumption.
ROTOR Adjustment: Threaded nuts are used to adjust rotors for a very fast and reliable maintenance. BEARINGS: Radial and thrust bearings have been engineered for generous reserve. Only first-quality bearings are used.
SHAFT SEAL: An excellent reliability of shaft seal, thanks to the use of first-rate quality materials leads to no oil leakages.
VERSIONS available: belt and gear-driven. DIRECT DRIVEN: Air-ends can be supplied with relative direct-driven kit (bell housing + spider couplings).
SPECIAL APPLICATION: Air-end are also available for Natural Gas applications
Air-end inspection and ordinary maintenance are recommended using VMC's original spa ted in the maintenance and trouble-shooting document.